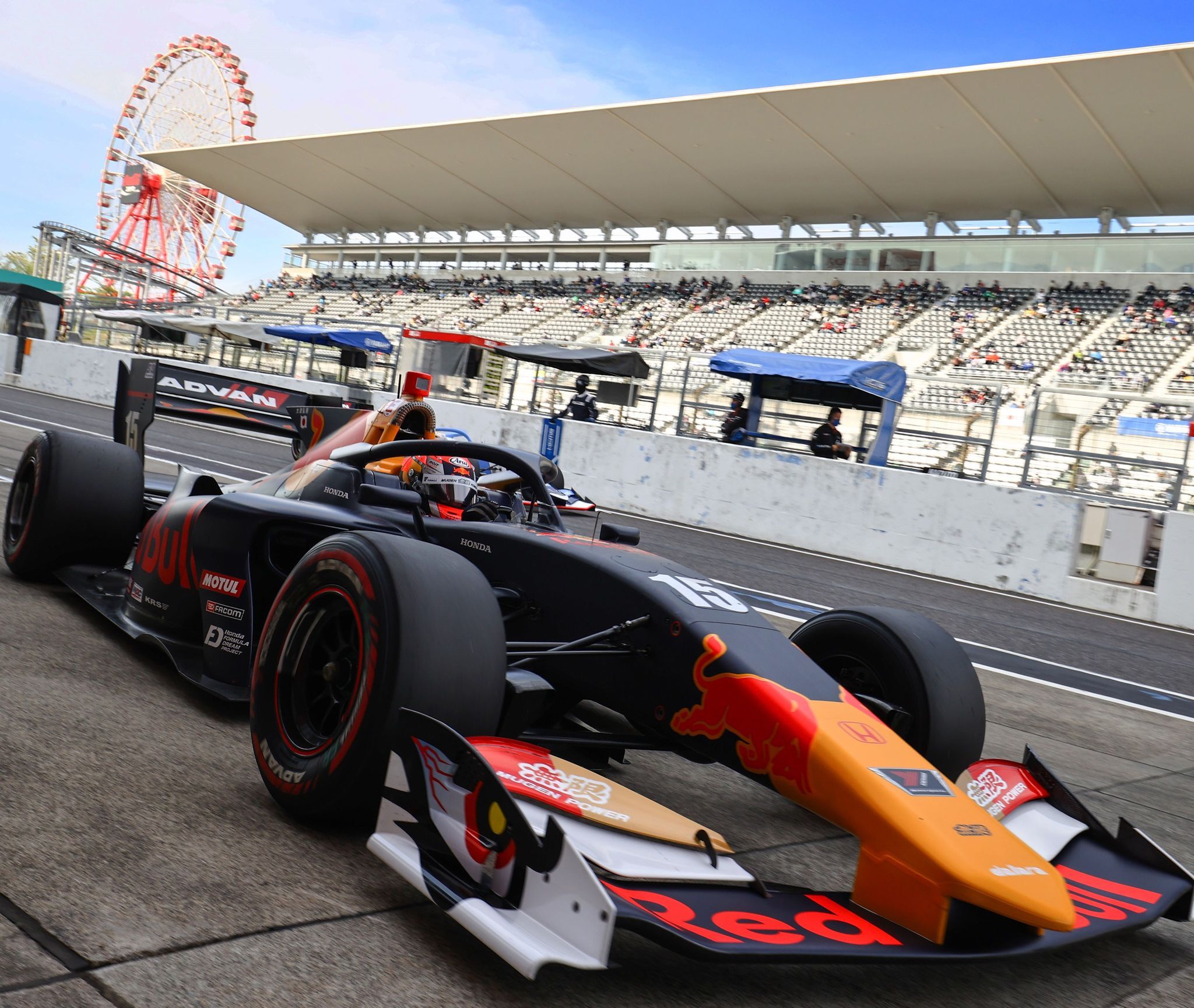 NEWS & RACES
Rookie Atsushi Miyake took third place and his first podium finish!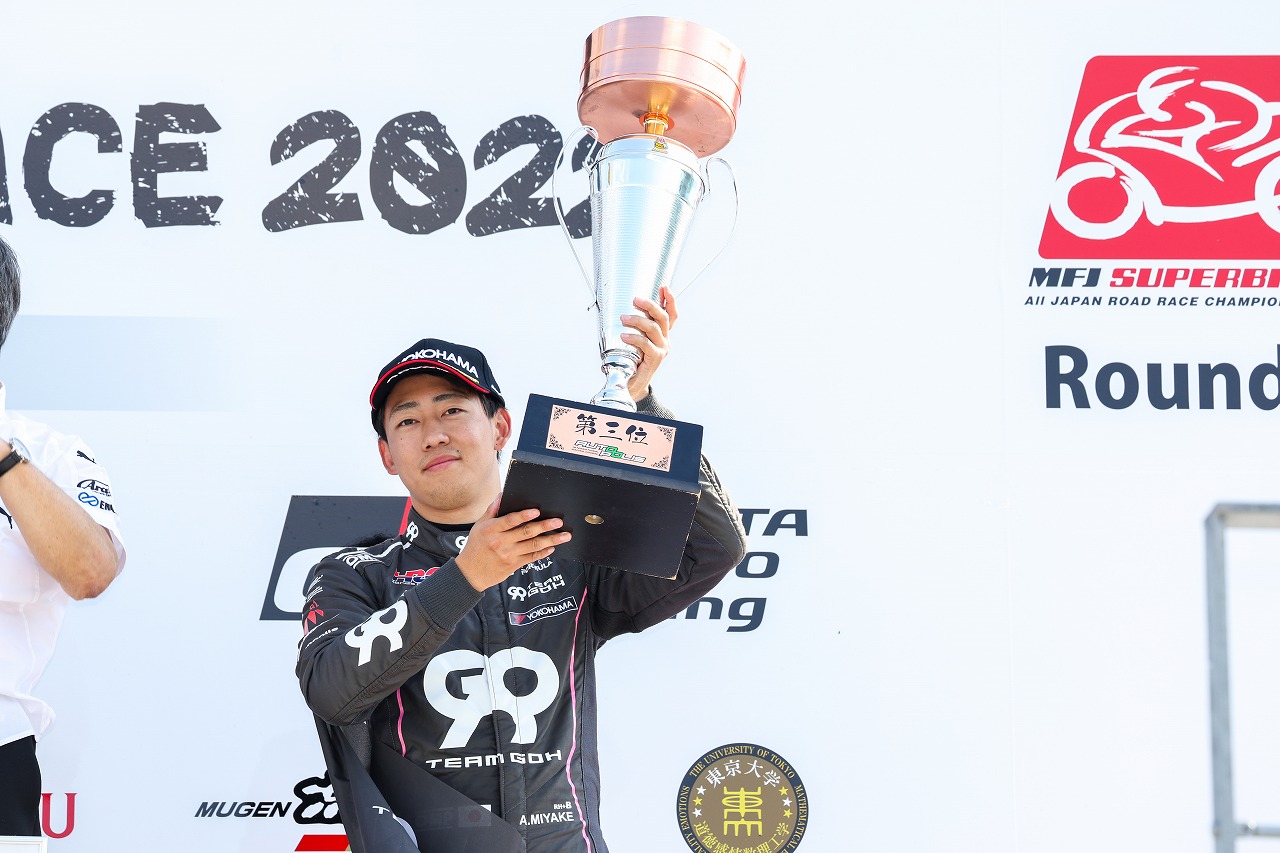 2022.05.23
News, Press, Races
Rookie Atsushi Miyake took third place and his first podium finish!
21 May: Weather: Fine  Temperature: 21℃ Track Conditions: Dry, 33℃
・Qualifying – P5(1'24.964)
22 May: Weather: Fine  Temperature: 24℃ Track Conditions: Dry, 44℃
・Race – P3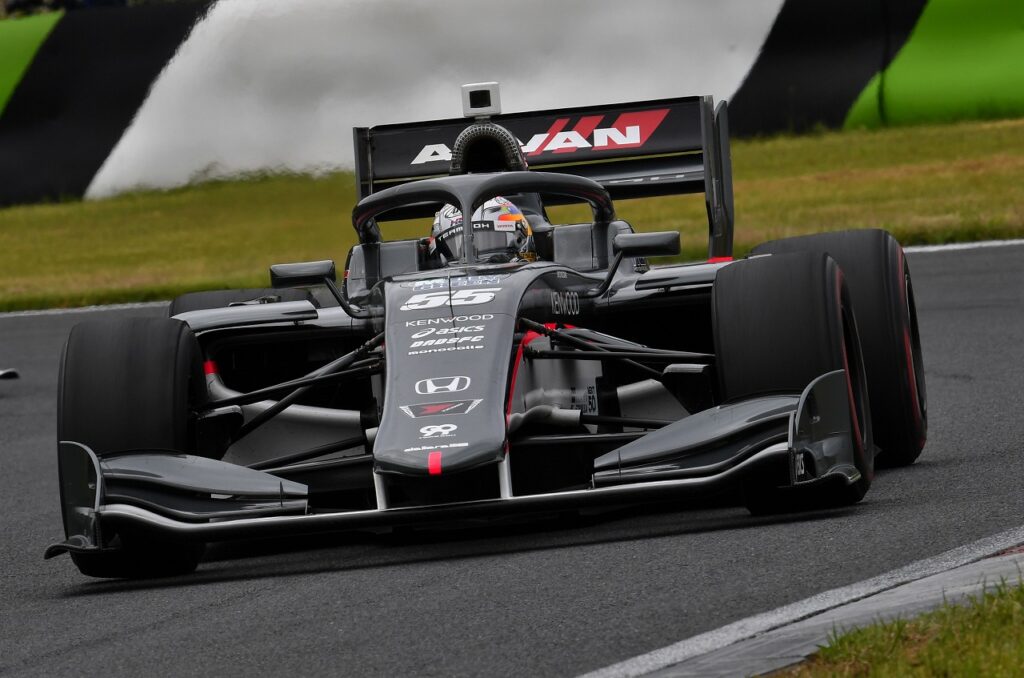 Round 4 of the 2022 All-Japan Super Formula Championship took place on Sunday, 22nd May, at Autopolis in Oita prefecture, and saw rookie driver, Atsushi Miyake, in TEAM GOH's No. 55 car, successfully achieve his first podium finish in 3rd place. It also secured TEAM GOH their first podium finish at the fourth round of the championship.
Miyake was to start the race from the third row of the grid in 5th place, his highest qualifying position of the championship, however the race start was somewhat chaotic and he lost two positions, but he kept up a good race pace which he was able to consistently maintain.
Several of the cars took their pit stops after completing the mandatory 10 laps, but Miyake was running faster than his rivals so his race strategy was changed and he stayed out longer.
After completing 32 laps Miyake was the last of the 21 cars to take his pit stop and change tyres. The pit stop took 8.3 seconds, not exactly fast, but on new tyres he managed to get back out on track in front of Tomoki Nojiri winning the out-lap battle on cold tyres and putting him in a position to finish on the podium in 3rd place.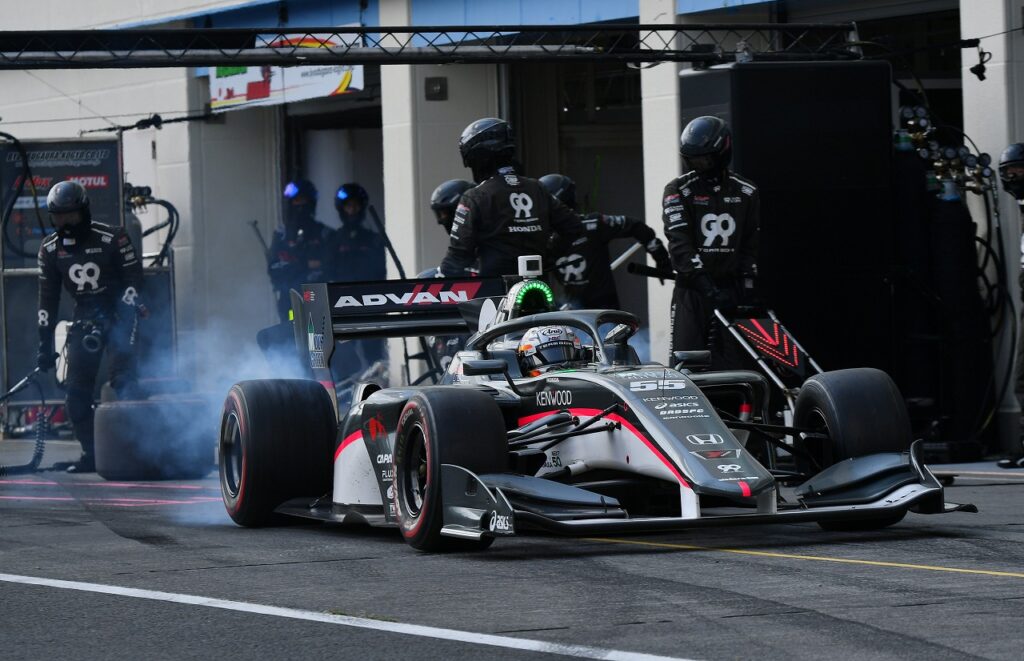 Together with new tyres and being lighter on fuel, Miyake not only set the fastest time in sector 3 on lap 34 giving him the fastest lap of 1.28.747 on lap 35, but he also set the best time in sector 1 on lap 37 all of which enabled him to finish the 42-lap race in 3rd place.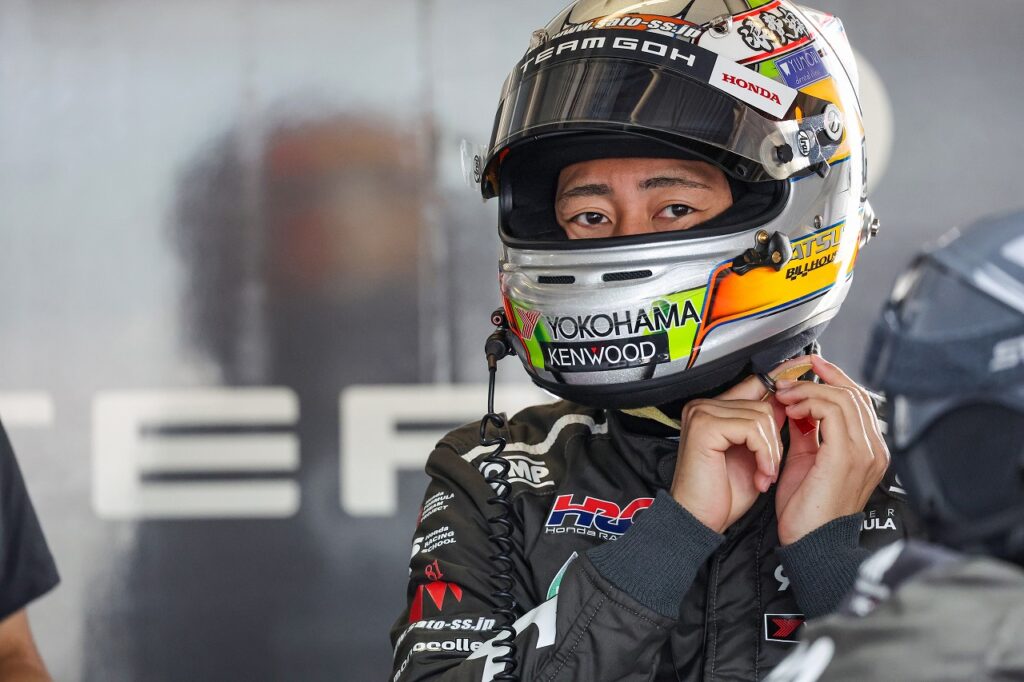 Atsushi Miyake, Driver #55
"Starting 5th on the third row of the grid I felt gave me a really great chance.
Unfortunately I didn't get the best of starts and lost a couple of places, but after 10 laps I could see my pace was faster than the cars around me, so we changed our strategy and decided to go long before pitting.
Although my pace was good, there were many places on track where I was having problems so managing my tyres was difficult, but I was getting really good advice on every lap from Engineer Okajima and Driving Advisor Izawa which enabled me to manage the tyres and I think that's why I was able to finish third.
My thanks go not only to everyone on my team, but to the team as a whole, as we were able to secure this 3rd place podium.
Now to make preparations for the next round in SUGO, which, just like Autopolis, is another circuit I have never raced a Super Formula car at before, so I will be sure to create my best opportunities from the beginning of race week in order to avoid a repeat of the round I had in Suzuka! My thanks for your support."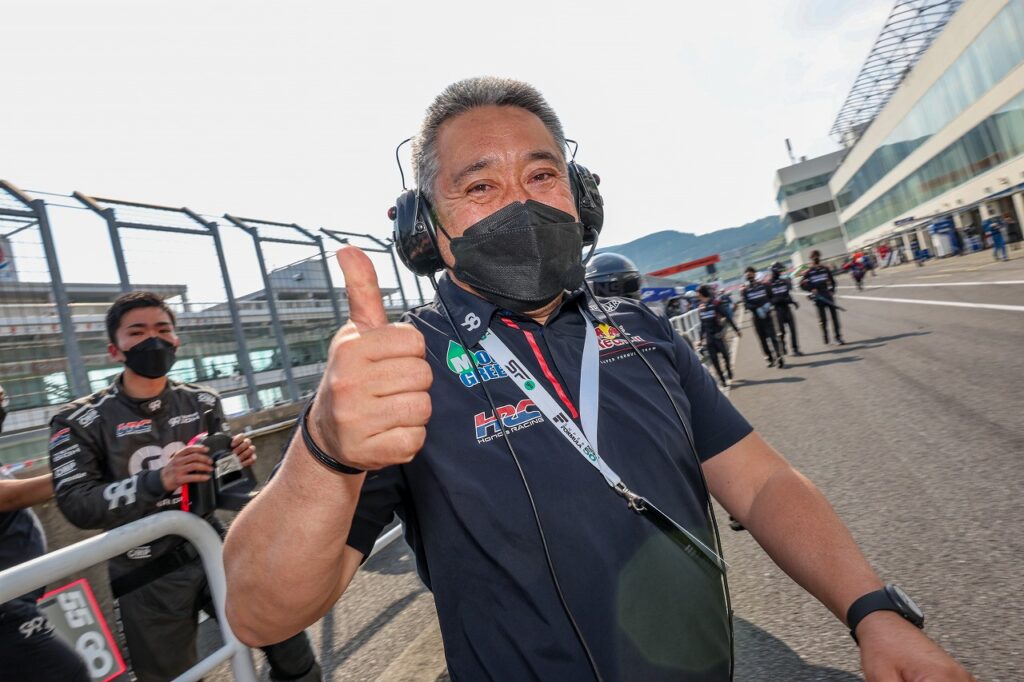 Masashi Yamamoto, Team Director
"After starting from 5th position Miyake took an impressive 3rd place podium finish. The entire team worked as one and I am delighted we were able to get on the podium.
Miyake himself had found a good set-up from Free Practice 2 and Warm-up, and his race pace was really good so it was easy to find a good strategy. I would like to thank the entire team, the drivers and everyone."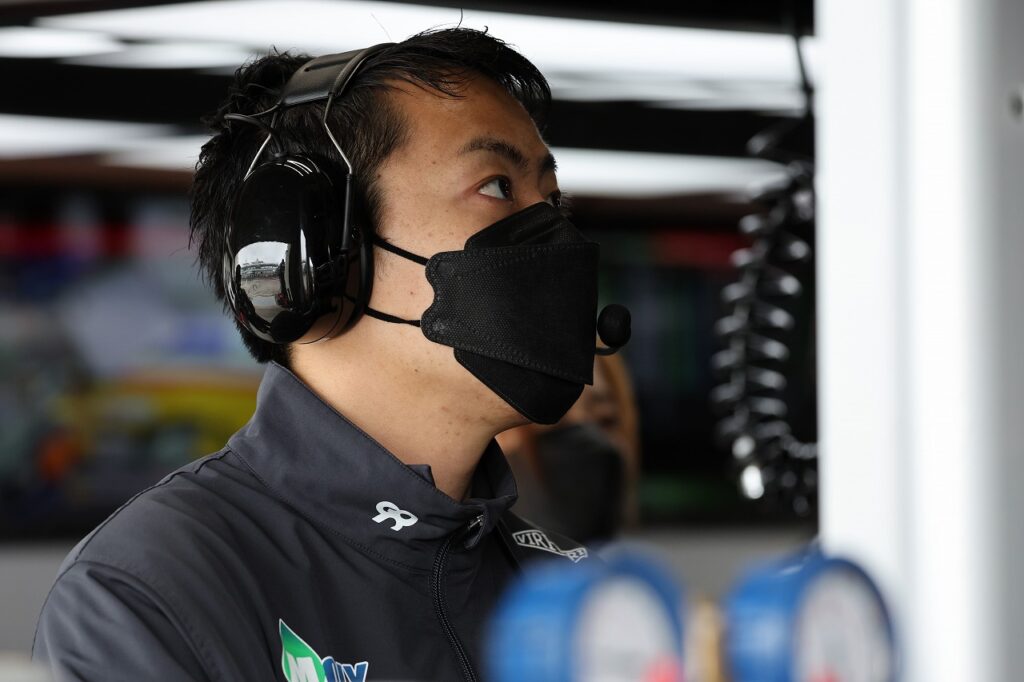 Shintaro Okajima, Engineer, #55
"In the morning during FP2 things were not progressing well and Miyake was not happy with his driving. Then, during a short red flag period, we found something which we analysed in the data and adjusted the set-up for the race.
I was a bit worried during warm-up, but after some advice I received from Driving Advisor Izawa I decided to begin the race without any further changes to the set-up and hoped that my driving experience would get me through.
The initial race pace was tough, but once the tyre pressure increased the pace really picked up and we were running really well so we decided against the early pit-stop option.
Miyake was also battling on track with Nojiri, but after building a solid gap I decided to make the pit stop to get on the podium.
By opting for the later pit stop, going out on new tyres and being lighter on fuel we were able not only to set the fastest lap time, but to give TEAM GOH their first podium finish; it was a very good weekend.
Now we will prepare well for the next round in SUGO."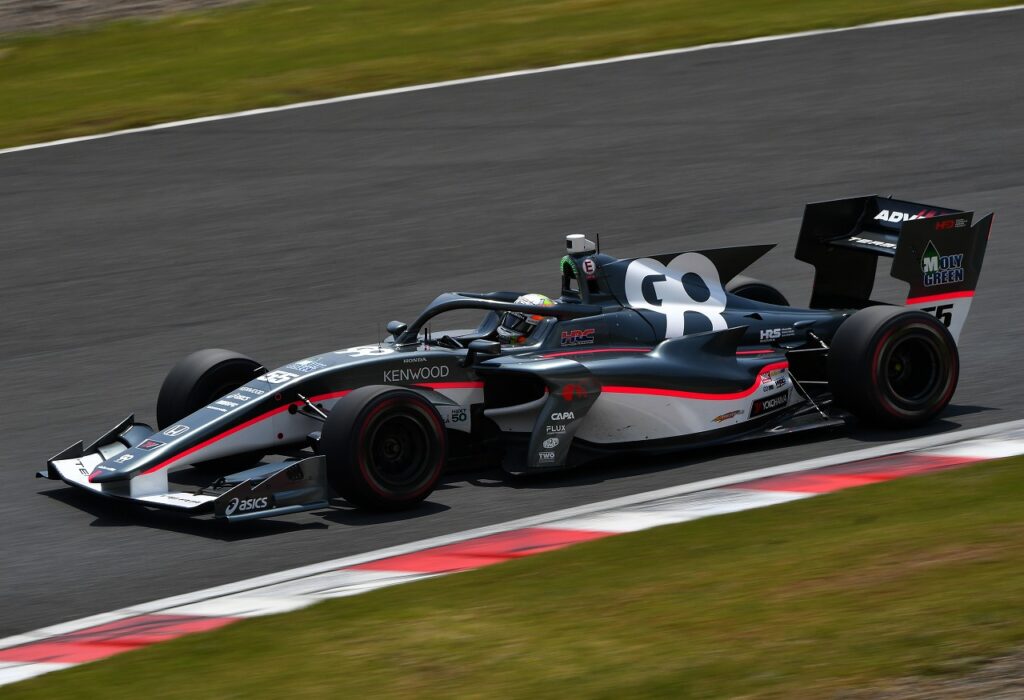 team-goh-PR
News, Press, Races